PLEASURES OF THE HEART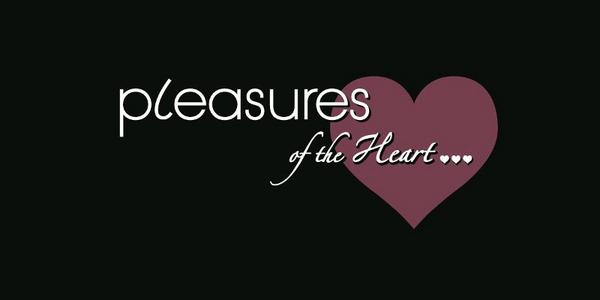 Pleasures of the Heart is an intimate apparel and accessories store
where customer service and education are FUNdamental.
At our cozy boutique, we are committed to making you and your friends feel comfortable
when you take the bold step of crossing the threshold into our pleasure trove.
Our staff encourages confidence in women and men of all sizes, ages and orientations
while giving you a safe space to comfortably explore your sexuality.
We aspire to contribute to the emotional, psychological and physical health of all adults in our community.
A healthy sex life is a key ingredient to general well-being.
We also offer evening classes on everything from body image to bondage!
If you are a novice at erotica shopping or if our boutique is like a home away from home for you,
whatever your pleasure,
Pleasures of the Heart is here for you.
jennifer@pleasuresoftheheart.com
Jennifer offers a 20% discount on lingerie and 25% on toys to members of Nancy's List.
Join us for our free monthly discussion groups.
Call Jennifer at 415 482.9899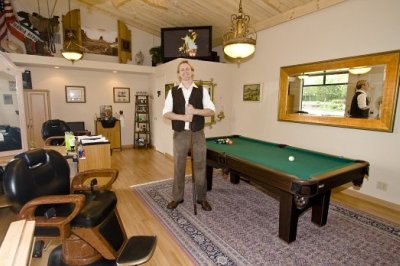 Come on down to "The Ranch" and enjoy a haircut in "The Ranch" style environment,
with all the comforts of home.
Come in and see Andreas, owner and stylist. Men, women and children are welcome to "The Ranch",
an upscale salon by the Creek Park surrounded by redwoods and rolling hills.
Enjoy your haircut while you watch the action in the park and on the Avenue
with the background noise of the Creek running below from "The Ranch" private windows…
A MASSAGE BY MINDY
Mindy Zimmerman NCTMB, CMT is a highly skilled practitioner
who has received the Nationally Certified Therapeutic Massage and Bodyworker license
in addition to the certified massage therapist requirements.
She combines her intuition and over 700 hours of training to help people manage stress both mentally and physically.
Sometimes touch is all that is needed to change our breath and reduce the stress we hold in our bodies.
What Mindy can do is connect with you in a way to be a gentle, kind witness,
who allows you to reconnect with places in your body long forgotten or abandoned.
She can help bring you back into your physical body and help relieve mental stress and tension held in the body.
She has the ability to help you give yourself back the love and care you desire,
but for which we rarely take the time to acknowledge and offer back to ourselves.
With over 15 years as a bodyworker, creative movement student, and meditator,
Mindy's work is especially effective for people with stress in their lives as well as acute and chronic pain.
Her approach to the body is looking at the system as a whole.
She works to determine the original root of the physical discomfort and then,
using different massage modalities,
works through the whole system releasing the tissue
and through patterns that hold our muscle tissue in contraction.
DRAGONFLY INK CUSTOM TATTOO
3409 23rd Street @ Valencia, San Francisco
Sasha is a tattoo/ permanent cosmetic artist in San Francisco.
She specializes in covering scars with body art, especially over mastectomy scars.
She also does cosmetic tattooing such as eyebrows and areolae re-pigmentation.
She is trained in traditional tattooing, cosmetic/ permanent makeup,
areola re-pigmentation, and has a blood bone pathogen certificate.
·
Sasha is donating 1-2 eyebrow tattoos each month
for women who about to undergo cancer treatment that will result in hair loss.
This way, eyebrows will already be in place at the rght placement and color.
It is a small way to keep some normalcy.
Persia Matine of Fabulous Face will "help women create the look of who you are now."
Years of research show that massage therapy is no longer just for relaxation.
The medicinal benefits offered by therapeutic massage can have a positive lasting impact
on your health and lifestyle.
247 North McDowell Boulevard in Petaluma
3365 Solano Avenue in Napa
640 East Cotati Avenue in Cotati
Suzanne is a licensed permanent makeup artist and cosmetologist in Sausalito.
This lasting beautification service is also known as cosmetic tattooing.
Suzanne draws from science and fine arts backgrounds
to provide her clients with beautifully designed eyeliner, brows,
lips, scar and areolae pigmentation.
Clear communication, a genuine interest in client comfort and safety, and precise attention to detail
are the cornerstones of success to her artistry.
HAT, SHIRT, AND SHADE PROVIDE BEST PROTECTION
May 24, 2010
EWG is a nonprofit research organization based in Washington, DC that uses the power of information to protect human health and the environment.
www.ewg.org
The fourth annual Sunscreen Guide by Environmental Working Group (EWG) gives low marks to the current crop of sunscreen products, with a few notable exceptions. EWG researchers recommend only 39, or 8 percent, of 500 beach and sport sunscreens on the market this season. Full report here:
http://www.ewg.org/2010sunscreen
The reason?
A surge in exaggerated SPF claims (SPFs greater than 50) and recent developments in understanding the possible hazards of some sunscreen ingredients, in particular, new government data linking a form of vitamin A used in sunscreens to accelerated growth of skin tumors and lesions.
Industry's lackluster performance and the federal Food and Drug Administration's (FDA) failure to issue regulations for sunscreens lead EWG to warn consumers not to depend on any sunscreen for primary protection from the sun's harmful ultraviolet rays. Hats, clothing and shade are still the most reliable sun protection available.
Products with high SPF ratings sell a false sense of security because most people using them stay out in the sun longer, still get burned (which increases risk of skin cancer) and subject their skin to large amounts of UVA radiation, the type of sunlight that does not burn but is believed responsible for considerable skin damage and cancer. High SPF products, which protect against sunburn, often provide very little protection against UVA radiation. Also, most people don't get the high SPF they pay for: people apply about a quarter of the recommended amount. In everyday practice, a product labeled SPF 100 really performs like SPF 3.2, an SPF 30 rating equates to a 2.3 and an SPF 15 translates to 2.
"Many sunscreens available in the U.S. may be the equivalent of modern-day snake oil, plying customers with claims of broad-spectrum protection but not providing it, while exposing people to potentially hazardous chemical that can penetrate the skin into the body," said Jane Houlihan, EWG Senior Vice President for Research. "When only 8 percent of sunscreens rate high for safety and efficacy, it's clear that consumers concerned about protecting themselves and their families are left with few good options."
This year, new concerns are being raised about a vitamin A compound called retinyl palmitate, found in 41 percent of sunscreens. The FDA is investigating whether this chemical, when applied to skin that is then exposed to sunlight, may accelerate skin damage and elevate skin cancer risk. FDA data suggest that vitamin A may be photocarcinogenic, meaning that in the presence of the sun's ultraviolet rays, the compound and skin undergo complex biochemical changes resulting in cancer. The evidence against vitamin A is not conclusive, but as long as it is suspect, EWG recommends that consumers choose vitamin A-free sunscreens.
EWG has again flagged products with oxybenzone, a hormone-disrupting compound that penetrates the skin and enters the bloodstream. Biomonitoring surveys conducted by the Centers for Disease Control and Prevention have detected oxybenzone in the bodies of 97 percent of Americans tested. In all, EWG researchers assessed 1,400 sunscreen products, including beach and sports lotions, sprays and creams, moisturizers, make-up and lip balms. The 39 top beach and sports products that earned EWG's "green" rating all contain the minerals zinc or titanium. EWG researchers were unable find any non-mineral sunscreens that scored better than "yellow."
Some blame falls on the FDA, which has yet to finalize regulations for sunscreens promised since 1978. FDA officials estimate that the regulations may be issued next October – but even then, they are expected to give manufacturers at least a year, and possibly longer, to comply with the new rules. That means the first federally regulated sunscreens won't go on store shelves before the summer of 2012.
"Both world wars, the creation of Medicare and the planning and execution of the moon landing combined took less time to achieve than FDA's promised sunscreen regulations," said Houlihan. Meanwhile, more than one million cases of skin cancer are diagnosed in the U.S. every year. This could be the poster child for government inaction."
FRAGRANCE, PERFUME & COLOGNE – WHAT'S THE DIFFERENCE?
Fragrances are designed to make you smell good, but is that all they are doing? In a recently released study of 17 name-brand fragrances co-authored by EWG and the Campaign for Safe Cosmetics,
we found that they contain secret ingredients, chemicals not listed on the label, with troubling hazardous properties. We found 38 unlisted chemicals in our testing. The average fragrance tested contained 14 secret chemicals. Among them are chemicals associated with hormone disruption and allergic reactions, and many substances that have not been assessed for safety in personal care products by the US Food and Drug Administration (FDA) or the industry's own safety panel.
A rose may be a rose. But that rose-like fragrance in your perfume may be something else entirely, concocted from any number
of the fragrance industry's 3,100 stock chemical ingredients,
the blend of which is almost always kept hidden from the consumer. Makers of popular perfumes, colognes and body sprays market their scents with terms like "floral," "exotic," or "musky," but they don't disclose that many scents are actually a complex cocktail of natural essences and synthetic chemicals – often petrochemicals. Laboratory tests commissioned by the
Campaign for Safe Cosmetics
and analyzed by Environmental Working Group revealed 38 secret chemicals in 17 name brand fragrance products, topped by American Eagle Seventy Seven with 24, Chanel Coco with 18, and Britney Spears Curious and Giorgio Armani Acqua Di Gio with 17.
The average fragrance product tested contained 14 secret chemicals not listed on the label. Among them are chemicals associated with hormone disruption and allergic reactions, and many substances that have not been assessed for safety in personal care products.Also in the ranks of undisclosed ingredients are chemicals with troubling hazardous properties or with a propensity to accumulate in human tissues. These include diethyl phthalate, a chemical found in 97 percent of Americans, and linked to sperm damage in human epidemiological studies, and musk ketone, a synthetic fragrance ingredient that concentrates in human fat tissue and breast milk. This complex mix of clandestine compounds in popular colognes and perfumes makes it impossible for consumers to make informed decisions about the products they consider buying.
The federal government is equally uninformed. A review of government records shows that the U.S. Food and Drug Administration has not assessed the vast majority of these secret fragrance chemicals for safety when used in spray-on personal care products such as fragrances. Nor have most been evaluated by the safety review panel of the International Fragrance Association or any other publicly accountable institution.
Fragrance secrecy is legal due to a giant loophole in the Federal Fair Packaging and Labeling Act of 1973, which requires companies to list cosmetics ingredients on the product labels but explicitly exempts fragrance. By taking advantage of this loophole, the cosmetics industry has kept the public in the dark about the ingredients in fragrance, even those that present potential health risks or build up in people's bodies.
Ingredients not in a product's hidden fragrance mixture must be listed on the label. As a result, manufacturers disclose some chemical constituents on ingredient lists but lump others together in the generic category of "fragrance." In fact, "fragrances" are typically mixtures of many different secret chemicals, like those uncovered in this study. On average, the 17 name-brand fragrances tested in this study contained nearly equal numbers of secret and labeled ingredients, with 14 chemicals kept secret but found through testing, and 15 disclosed on labels.
Perfumes, colognes and body sprays are often called "fragrances." But under U.S. law, the term fragrance is defined as a combination of chemicals that gives each perfume or cologne its distinct scent. Fragrance ingredients may be produced by chemical synthesis or derived from petroleum or natural raw materials. Companies that manufacture perfume or cologne purchase fragrance mixtures from fragrance houses (companies that specialize in developing fragrances) to develop their own proprietary blends. In addition to "scent" chemicals that we actually smell, perfumes and colognes also contain solvents, stabilizers, UV absorbers, preservatives and dyes. These additives are frequently, but not always, listed on product labels. In contrast, the chemical components in fragrance itself are protected as trade secrets and described on the label only as "fragrance."
Product tests initiated by the Campaign for Safe Cosmetics and subsequent analyses, detailed in this report, reveal that widely recognized brand-name perfumes and colognes contain secret chemicals, sensitizers, potential hormone disruptors and chemicals not assessed for safety:
Laboratory tests revealed 38 secret chemicals in 17 name-brand products with an average of 14 secret chemicals per product.
American Eagle Seventy Seven contained 24 secret chemicals, nearly twice the average found in other products tested.
Multiple sensitizers:
The products tested contained an average of 10 chemicals that are known to be sensitizers and can trigger allergic reactions such as asthma, wheezing, headaches and contact dermatitis. All of these were listed on product labels. Giorgio Armani Acqua Di contained 19 different sensitizing chemicals that can trigger allergic reactions, more than any other product tested.
Multiple hormone disruptors:
A total of 12 different hormone-disrupting chemicals were found in the tested products, with an average of four in each product. Three products each contained seven different chemicals with the potential to disrupt the hormone system: by Halle Berry, Quicksilver and Jennifer Lopez J. Lo Glow. In each product, six of these chemicals mimic the hormone estrogen, and the seventh is associated with thyroid effects. Some of these potential hormone disruptors were listed on labels; others were undisclosed and were uncovered in product testing.
Widespread use of chemicals that have not been assessed for safety:
A review of government records shows that the U.S. Food and Drug Administration (FDA) has not assessed the vast majority of fragrance ingredients in personal care products for safety. The Cosmetic Ingredient Review (CIR), an industry-funded and self policing body, has assessed only 19 of the 91 ingredients listed on labels or found in testing for the 17 products assessed in this study.
The International Fragrance Association (IFRA) and the Research Institute for Fragrance Materials (RIFM), which develop and set voluntary standards for chemicals in the "fragrance" component of products, have assessed only 27 of the 91 ingredients listed on labels or found in testing for the 17 products assessed in this study, based on a review of assessments published in the past 25 years.
Products were tested by Analytical Sciences, an independent laboratory in Petaluma, California. The lab found, in all, 40 chemicals in the tested fragrance products. Thirty-eight of these were secret, or unlabeled, for at least one of the products containing them, while the other two were listed on all relevant product labels. Ingredient labels disclosed the presence of another 51 chemical ingredients,
giving a total of 91 chemical ingredients altogether in the tested products, including hidden and disclosed ingredients combined. Of the 17 products tested, 13 were purchased in the U.S. and four in Canada.
When sprayed or applied on the skin, many chemicals from perfumes, cosmetics and personal care products are inhaled. Others are absorbed through the skin. Either way, many of these chemicals can accumulate in the body. A s a result, the bodies of most Americans are polluted with multiple cosmetics ingredients. This pollution begins in the womb and continues through life.
A recent EWG study found Galaxolide and Tonalide, two synthetic musks,in the cord blood of newborn babies (EWG 2009). Both musks contaminate people and the environment worldwide,
have been associated with toxicity to the endocrine system (van der Burg 2008) and were identified in the majority of products tested for this study. Similarly, a pregnant woman's use of some fragrances and other cosmetics frequently may expose her growing fetus to diethyl phthalate (DEP), a common perfume solvent linked to abnormal development of reproductive organs in baby boys and sperm damage in adult men (Washington Toxics Coalition 2009). New research also links prenatal exposure of DEP to clinically diagnosed Attention Deficit Disorder in children (Engel 2010).
This analysis found DEP in 12 of 17 products tested,at levels ranging from 30 parts per million (ppm) to 32,000 ppm in Eternity for Women.
Numerous other products used daily, such as shampoos, lotions, bath products, cleaning sprays, air fresheners and laundry and dishwashing detergents, also contain strongly scented, volatile ingredients that are hidden behind the word "fragrance." Some of these ingredients react with ozone in the indoor air, generating many potentially harmful secondary air pollutants such as formaldehyde and ultrafine particles (Nazaroff 2004).
People have the right to know which chemicals they are being exposed to. They have the right to expect the government to protect people, especially vulnerable populations, from hazardous chemicals.
In addition to required safety assessments of ingredients in cosmetics, the laws must be changed to require the chemicals in fragrance to be fully disclosed and publicly accessible on ingredient labels.
As our test results show, short of sending your favorite perfume to a lab for testing, shoppers have no way of knowing exactly which of the 3,100 fragrance ingredients may be hiding in their beauty products or even in their child's baby shampoo. This study focused on several categories of chemicals – specifically volatile compounds, semi-volatile compounds and synthetic musks.
The laboratory analyses, while thorough, were not exhaustive, which means that additional chemicals of concern may also be present in the tested products.
Widespread exposure and a long-standing culture of secrecy within the fragrance industry continue to put countless people at risk of contact sensitization to fragrances with poorly tested and intentionally unlabeled ingredients (Schnuch 2007).
According to EWG analysis, the fragrance industry has published safety assessments for only 34% of the unlabeled ingredients. The unassessed chemicals range from food additives whose safety in perfumes has not been assessed to chemicals with limited public safety data such as synthetic musk fragrances, which accumulate in the human body and may be linked to hormone disruption.
Some chemicals that are disclosed on the labels of the products in this report also raise safety concerns. They include sunscreen and ultraviolet-protector chemicals associated with hormone disruption and 24 chemical sensitizers that can trigger allergic reactions (European Commission Scientific Committee on Cosmetic Products and Non-Food Products (EC) 1999).
To make matters worse, FDA lacks the authority to require manufacturers to test cosmetics for safety, including fragranced products, before they are sold to consumers. People using perfume, cologne, body spray and other scented cosmetics like lotion and aftershave are unknowingly exposed to chemicals that may increase their risk for certain health problems.
In 1973 Congress passed the federal Fair Packaging and Labeling Act. The law, which requires companies to list cosmetics ingredients on the product labels, specifically exempts fragrances. Since then, the vague word "fragrance" is all you'll find on the label. If there's anything to be grateful for in this, "fragrance" is a recognizable word that is easily avoided by label readers.
The FDA has not assessed the vast majority of these secret fragrance chemicals for safety when used in spray-on personal care products such as fragrances. Most have not even been evaluated by the safety review panel of the International Fragrance Association (IFRA) or any other publicly accountable institution. Of the chemicals that have been tested, there isn't a lot of good news.
The vague term "fragrance" covers chemicals that can be linked to reproductive damage, hormone disruption, and can trigger allergic reactions.
Fragrances may be designed to make you smell better and feel good about yourself, but here at EWG we don't know how you can feel good when you don't know what you are putting on your body.
We hope this new report will help you make better-informed choices about your fragrances.